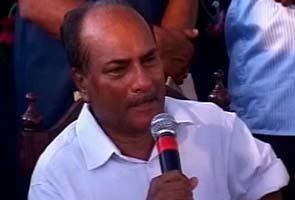 Just a day ahead of the meeting of the Defence Secretaries of both nations, India indulged in some tough posturing with Pakistan over the issue of terrorism.
Claiming that about 42 terrorist camps were still functioning in Pakistan, Defence Minister A K Antony said that "co-operation" between the two nations wasn't possible if the terror tap continued to flow from across the border.
"Without destroying these terrorist camps, it would be difficult to have permanent cooperation in Indo-Pak relations," he said.
Only empty words with no actions will not effect anybody will it
However, the minister said that the government was keen to continue the dialogue process as India wanted to have good relations with Pakistan.
"Dialogue is an important factor. Without dialogue nothing can be achieved," he said.
For Prime Minister Manmohan Singh it looks dialogue is the only way forward because he has no stomach for a fight.
Mr Antony's comments came just a day before the start of the two-day Defence Secretary-level talks in New Delhi.